The Forth Advisory Committee and New Initiatives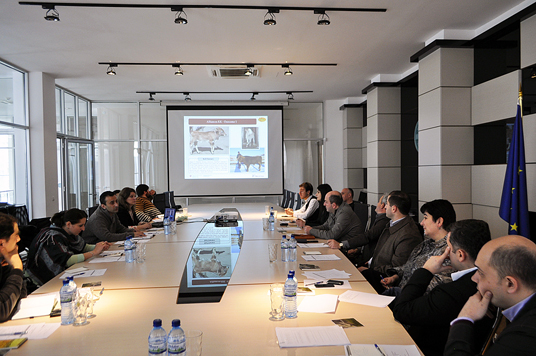 The Feasibility Study for the Animal Movement Rout and animal disease notification and control, two key topics were discussed on the 4th advisory committee on the 29th of March. At the beginning of the meeting the Alliances KK Programme Director Ms. Helen Bradbury provided a brief presentation concerning the interventions of the programme.

Rati Mekvabishvili – the representative of the Ministry of Agriculture provided the latest updates on the Feasibility Study of The Animal Movement Route. As Mr Rati announced they are planning to hold a presentation on the conducted study and all interested stakeholders are welcome to attend it by the end of April. The Alliances KK Programme Director suggested the MOA arranging not just a presentation, but a participatory workshop, where stakeholders will have opportunity to voice their views and provide information for input into the feasibility study.
One of the main topics at the committee meeting was animal disease control issue; the newly appointed Head of the NFA Regional Division Mirangula Liparteliani presented latest activities of the NFA in this direction.
'The NFA has launched the brucellosis program that aims to estimate and study general situation for the disease. After one week, Anthrax vaccinations will commence in sites of historical outbreaks under the state program of the free vaccination. In the nearest future, in each municipality minimum one slaughterhouse will be operated. Process has already started, for instance recently a new slaughterhouse was opened in Tsalka municipality. Currently the NFA is starting organizing community level vet offices.'-said Mr Mirandula Liparteliani.
The committee will continue to be a forum for the discussions facilitating interaction and information exchange between relevant national, regional and local stakeholders form the public and private sectors.