The Baboyans from Village Kush
Armenians have been living in Kvemo Kartli for centuries. According to the 2002 census 31,777 out of 497,530 Kvemo Kartli residents were Armenians. The number of Armenians is highest in Tsalka where 11,484 Armenians live, out of a total population of 20977. The advent of Armenians in Georgia was related to the movement of people during the Arab, Turk-Seljuk, Mongolian, Turkmen, Kizilbash, Ottoman Turk and other invasions. Several major settlements of Armenians took place in 1828-1829, during the Russian-Turkish war

There is a bumpy road leading to the village of Kush in Tsalka Municipality over a damaged bridge that has a big hole in it. The village appears rather neglected and so it was a nice surprise to arrive at the well-kept, clean and tidy home of the Baboyans. They have hot water in the kitchen and a "city-style" bathroom and toilet. The Baboyans are a family of farmers. Lena, the eldest woman in the family, is a mother and grandmother and worked for the majority of her working life in a field-brigade at the local collective farm. Her husband, Askharabek, born in 1929, also worked there as a tractor operator from his childhood. Lena is worried about her husband. In the house, Ashkharabek was lying on the sofa, covered with a blanket. He was not feeling well and so Lena was bringing warm bricks to place on his legs to make him feel better. He complains that his long-term service has not been recognised by the government. Pensions are low, he added, and no one has even said a word of thanks to him for his many years of hard work. Moreover, he is sick now and cannot afford medical treatment. Unlike her husband, Lena kept silent for most of our visit and only cautiously tried to stop Ashkarabek's complaints. She herself has had her share of hard work in her life. She raised three children: her daughter Marina (born in 1960) and sons Matevos (1961) and Manvel (1963) and at the same time she worked on the collective farm. She remembers the farm work with nostalgia, saying it was good and cheerful, and that she had her own money.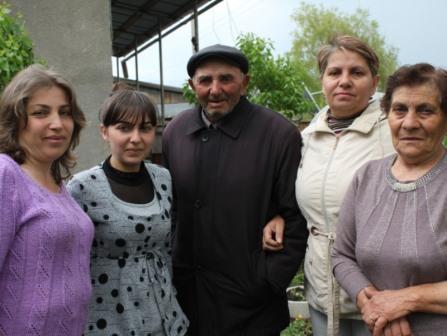 Marina, her daughter is of the same opinion. She lives with her husband and children in Krasnodar, Russia. Marina is the only member of the family fluent in Russian. She also recalls the past with nostalgia when the village was bigger and better and village life was more interesting.
Marina graduated from the Hydro and Land Reclaim Technical College in Yerevan and has always worked in her specialisation although she was moved to reception duties as she got closer to retirement. She thinks it would be great if a collective or state farm is set up in the village again. She highlighted the opportunity once provided for village women to get out of the house and to go to work and earn wages paid every month which would be their own money to be spent as they wished.
Now the family grows potatoes and sells milk, eggs and cheese at the local Saturday market. Any spare income is saved for the education of the children. The granddaughter Lena and her brother Oganez are both recipients of this investment in their futures by their family. Lena, named after her grandmother is 22 years old and has recently graduated from the Yerevan Pedagogical Institute and has returned to Kush. There is no job for her, however, as the local school is already fully staffed with teachers. She is contemplating what to do next and thinking about training to become a hair stylist. Her studies in Yerevan cost her family, at conservative estimates, at least 5,000 Lari. This is only for the rent of an apartment in Yerevan because tuition was free-of-charge since Lena managed to register in the non-paying sector. Oganez, her brother, is also in Yerevan where he is currently a student of economics but he is in the fee-paying sector. His education will cost the family much more. Oganez's four-year degree programme in economics will cost 14,000 Lari — a little less than 10,000 US dollars.
Lena's son Manvel is the only one from Lena's family without a special education and so he works as a tractor operator, like his father. Nazik, his wife is from the neighbouring village of Nadrevani, she married Manvel at an early age and did not continue her education after graduating school which she still regrets. This reinforces her desire to provide her with children higher education which is highly respected by everyone in the family. It seems that they are working exclusively to raise the significant amounts of money required for this purpose.
Manvel has his own tractor and he earns money by fulfilling orders for fellow villagers. There are many orders but not everyone can afford to pay. But Manvel continues to do the work and keeps records of the amounts receivable in a notebook. The family has only two cows and so they do not have much milk to sell. They do, however, have a lot of potatoes. However, this year has not been lucky for the potatoes with buyers not yet coming to the village, so the potatoes are being stored in the cellar. The price of potatoes is 30 Tetri per kilogram. Retail prices in Tbilisi are three times as high. Unfortunately, the lack of a buyer or wholesaler network means that they may be wasted.
According to Marina and her niece many school graduates strive to continue their education, going mainly to Armenia and Russia. Very few of them go to Tbilisi due to the lack of knowledge of the Georgian language. Lena said that she would gladly go to live and work in Tbilisi but the language problem is stopping her as she speaks neither Georgian nor Russian.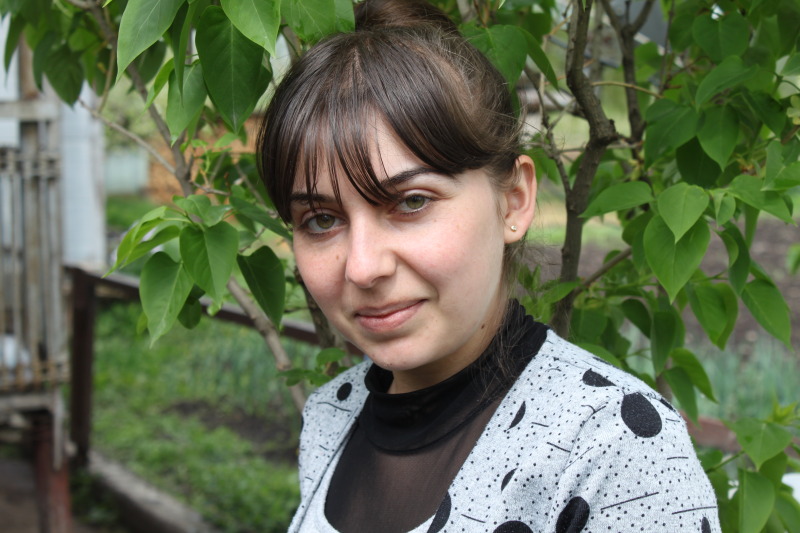 This is a real problem for the young people. There are very limited opportunities for employment in the village and limited knowledge of what could be achieved, for example, in small business. Older women would be willing to do something but their imagination does not go beyond their past experiences on the collective farm. Younger women lack information and the avenues to acquire skills and start-up capital are very limited if no absent. There are only two private micro enterprises in the village: a shop and a gas station. Both are owned by men. There are no women-run businesses at all. However every week in Kush there is a barter market operates where goods from lower altitudes such as grapes and oil are exchanged via wholesalers for those from the locality such as cheese and as women make cheese and know what is required by the family they are more involved in the barter trade than men.
At 22 the issue of marriage is becoming relevant for young Lena. As there are no suitable marriage candidates for a girl with education, many young women are leaving the village for bigger towns and cities. However, in Kush it is customary for young women to marry fellow villagers. Sometimes, men marry and bring women from far-away places to the village but the women marry local men. However, the women of the family said that ethnic villages have little interaction even in farming. Their isolation is very strong and is intensified at times, by dislike. People that have lived here for many generations do not like migrants from Svaneti and Ajara.
Lena's family in Kush is a hard-working and friendly one which values and works towards self-development and education of the next generation, although this is a future far from certain. On the one hand, the family sacrifices the interests of its older members in favour of the younger ones and invests all its efforts in their future. On the other hand, this future has little promise in Kush. The education that the family gives to its younger generation through such hard work often can only be capitalized upon if the children move away. Lena and her husband are perhaps deeply concerned not only because of the built up weariness due to the hard work and sacrifice but also because of the subconscious realisation that real opportunities for the young can only be found elsewhere.